Most people have been so thoroughly trained to think that obedience is a virtue and that doing as you're told makes you a good person, that anything contrary to that can be very difficult for them to consider. But the truth is, being a moral person often requires disobeying so-called "authorities" who use their power to exploit and dominate innocent people. As Martin Luther King, Jr. put it, "One has not only a legal but a moral responsibility to obey just laws. Conversely, one has a moral responsibility to disobey unjust laws." As Henry David Thoreau put it, "If [the law] is of such a nature that it requires you to be the agent of injustice to another, then I say, break the law." As Aleksandr Solzhenitsyn put it, "If a regime is immoral, its subjects are free from all obligations to it." And as Howard Zinn put it, "The greatest danger [is] civil obedience, the submission of individual conscience to governmental authority. Such obedience led to the horrors we saw in totalitarian states. … [T]o establish justice, it may be necessary to break the law, to commit acts of civil disobedience."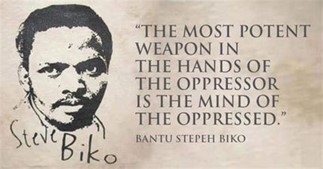 Photo source: www.urbanintellectuals.com
Indeed, the worst atrocities in history were first made "legal," and were carried out in the name of "law enforcement." This was true in Nazi Germany, in Soviet Russia, in Communist China, and under dozens of other oppressive regimes, and even in supposedly free and enlightened countries. For example, the abuse and murder of the indigenous peoples in what is now Canada and the United States was done by agents of the state, in the name of "law." And for many decades the heinous institution of slavery was also legal—though utterly immoral—and was enforced by governments all over the world. The list of examples of legalized injustice and oppression is nearly endless.
And those who resisted such evils were always dubbed "criminals" and trouble-makers. But that shouldn't be surprising. Of course tyrants in power will always demonize any who don't obey them. But the truth is, every authoritarian regime in history was funded and empowered by the law-abiding taxpayers, while every move towards a more free and moral society has been achieved by those who disobeyed those in power—not by asking nicely, not by voting or petitioning, but by disobeying and resisting those who claimed the right to rule. That is how reality works. As Frederick Douglass, a former slave, put it:
"If there is no struggle there is no progress. … Power concedes nothing without a demand. It never did and it never will. Find out just what any people will quietly submit to and you have found out the exact measure of injustice and wrong which will be imposed upon them, and these will continue till they are resisted with either words or blows, or with both. The limits of tyrants are prescribed by the endurance of those whom they oppress."
And the opposite is also true, in that the power of tyrants, dictators and oppressors always comes from the compliance and obedience of the masses. Large scale evil has almost always been enabled and funded by basically decent people who were just paying their taxes, following the rules and obeying the law.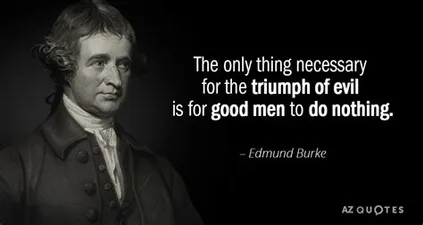 To show just how true this is, here is an explanation of the point that was written well over four hundred years ago by a man named Étienne de La Boétie.
"[T]he more tyrants pillage, the more they crave, the more they ruin and destroy; the more one yields to them, and obeys them, by that much do they become mightier and more formidable, the readier to annihilate and destroy. But if not one thing is yielded to them, if, without any violence they are simply not obeyed, they become naked and undone and as nothing."  All this havoc, this misfortune, this ruin, descends upon you not from alien foes, but from the one enemy whom you yourselves render as powerful as he is. … He who thus domineers over you has only two eyes, only two hands, only one body … he has indeed nothing more than the power that you confer upon him to destroy you. Where has he acquired enough eyes to spy upon you, if you do not provide them yourselves? How can he have so many arms to beat you with, if he does not borrow them from you? The feet that trample down your cities, where does he get them if they are not your own? How does he have any power over you except through you? How would he dare assail you if he had no cooperation from you? What could he do to you if you yourselves did not connive with the thief who plunders you, if you were not accomplices of the murderer who kills you, if you were not traitors to yourselves? … [Y]ou can deliver yourselves if you try, not by taking action, but merely by willing to be free. Resolve to serve no more, and you are at once freed. I do not ask that you place hands upon the tyrant to topple him over, but simply that you support him no longer; then you will behold him, like a great Colossus whose pedestal has been pulled away, fall of his own weight and break in pieces."
The life of a caged animal is, in many ways, easier than life in the wild. Likewise, life as an unthinking human slave can be more predictable and feel safe than a life of responsibility. But, just as living in the wild makes animals stronger, smarter, and far better able to care for themselves, letting go of the "authority" myth will force human beings to be smarter, more creative, more compassionate, and more moral. That is not to say that all people will, without the belief in "government" be wise, kind and generous. But if millions of individuals each understood that it is up to them personally to make the world a better place, instead of merely obediently playing and assigned part in someone else's master plan while crying to "government" to fix everything, it would unleash a level of human creativity, ingenuity, and cooperation beyond what most people could possibly imagine.
---
Larken Rose