Wildfires, floods, drought, tornados, hurricanes… We are witnessing more and more extreme weather worldwide. People in each continent are facing these extreme conditions. Political leaders, scientists and other environmental leaders blame climate change, which  they believe is caused by  human activities and our irresponsible behavior on the planet. Sure, we can do things better, but is there something happening behind the scenes of those "natural" disasters? Let's have a look.
Wildfires are a natural process that has occurred throughout history. The common cause is lightening, but for the last couple of decades human causes have rapidly increased. Some delinquents have been arrested, including volunteer firefighters who lit fires on purpose to make money, some were started  accidentally. However, many of them are unexplained, especially for the last couple of years in Canada and U.S.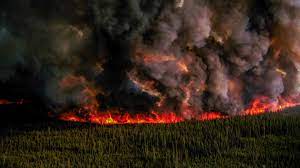 In 1965, the Joint Chiefs of Staff requested that the Secretary of Defense initiate research to determine the feasibility of measuring the flammability characteristics of forests and jungle growth, modifying flammability so that vegetation would readily support combustion. and developing measures to destroy large areas of forest or jungle growth by fire. This research has been conducted by the Forest Service of the Department of Agriculture, under sponsorship of the Advanced Research Projects Agency through ARPA Order 818. Primary research attention has been given to the flammability characteristics of jungle growth in tropical and monsoonal climates where forest fires seldom occur naturally. Major consideration has been given to developing operational guidelines that utilize input data readily available to military commanders under field conditions.
In 1970 U.S. department of Agriculture finalized a report "Forest fires as a military weapon", including the experience of using the fire-bombing raid in Vietnam, during the war.  The report also shows the pertinent incendiary data collected by the climatic type in various countries in the world, and following strategy to create a "wildfire".
https://apps.dtic.mil/sti/pdfs/AD0509724.pdf
In 2021, with massive propaganda and money supported by the global warming agenda, scientists acted upon the theory of cooling down the Earth surface by the intentionally created wildfires. The black carbon-rich smoke billowing from their flames is made of the soot and ash from burned trees, grass, and shrubs. The intense heat of some infernos can propel this soot and ash to altitudes so high that it can circumnavigate the globe. The warming sunlight is absorbed by the dark particles at high altitudes and won't reach Earth's surface.
https://www.snexplores.org/article/wildfires-australia-siberia-california-cool-climate-aerosols
Alberta premier Danielle Smith recently informed, that she is concerned about arson being the cause in some fires. She says:" We have almost 175 fires with no known cause at the moment. Sometimes they are very easy to trace — when you have lightning storms, it's easy to trace. When you have a train derailment, that's easy to trace."
During the war, Vietnam was also confronted with another weather extreme created by the U.S. military. "Operation Popeye" was a secret five year military cloud – seeding operation carried out by the U.S. Air force. The intent was to lengthen monsoon season in Vietnam, in order to destabilized the enemy and disrupt the distribution of military supplies by softening the road surfaces and causing landslides.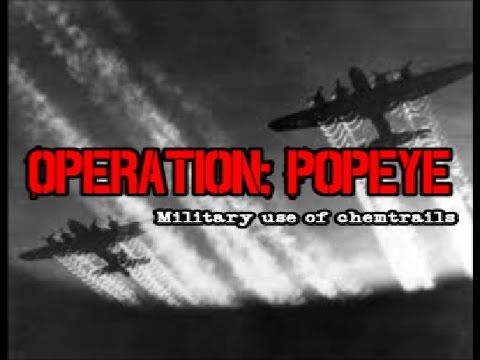 Another project of weather manipulation was "Project Stormfury" run from 1962 to 1983. This weather modification operation was supported by the U.S. Government in attempt to weaken tropical cyclones by seeding the silver iodide into the storms clouds by the U.S. Air Force. Silver iodide is supposed to supercool water so it will  freeze during a storm, disrupting the inner structure of hurricane.
In 2008, the Chinese regime fired 1,110 rockets  to make sure the 2008 Olympic opening ceremony was without  rain. The Chinese  artillery launched rockets from 21 sites in the city intercepting a potentially disruptive rain belt and triggering premature showers before they reached the capital.
Zhang Qiang, the deputy director of the Beijing Weather Modification Office, insisted there was no environmental danger from using silver iodide to disperse rain and clouds, as only one gram of the chemical was released per square kilometre, a level safe for humans.
https://www.independent.co.uk/sport/olympics/how-beijing-used-rockets-to-keep-opening-ceremony-dry-890294.html
In 2001, U.S. Representative of Ohio in congress Dennis Kucinich introduced a Bill H.R. 2977, to preserve the cooperative, peaceful uses of space for the benefit of all humankind by permanently prohibiting the basing of weapons in space by the United States, and to require the President to take action to adopt and implement a world treaty banning space-based weapons. The bill contains exotic weapons systems such a chemtrails, high altitude ultra low frequency weapons systems, plasma, electromagnetic, sonic, or ultrasonic weapons, laser weapons systems, strategic, theater, tactical or extraterrestrial weapons and chemical, biological, environmental, climate or tectonic weapons.
The term ''exotic weapons systems'' includes weapons designed to damage space or natural  ecosystems (such as the ionosphere and upper atmosphere) or climate, weather, and tectonic systems with the purpose of inducing damage or destruction  upon a target population or region on earth or in space.
https://www.congress.gov/107/bills/hr2977/BILLS-107hr2977ih.pdf
Chemtrails are the unusual jet contrails which leave lines in the sky. The word "Chemtrails" was used for the fist time in 1990, in the title of a chemistry manual for a new pilots attending the esteemed U.S. Air Force Academy. The list of substances listed in this manual to be used in these USAF experiments include: aluminum 3, aluminum hydride, barium-fluoride, beryllium, cyanide, hydrochloric acid, various ions, including ions of copper, iron 2, lithium ions, nickel perchlorate (rocket fuel), phosphorous tri-fluoride, silver iodide, sodium ions and single-valence metals.
https://archive.org/details/ChemtrailsManualChemistry131ManualUSAFAcademyFall1990_201810/mode/2up
Chemtrails aerosolize the sky with nanoparticles and then the atmosphere is ionized by the High- frequency Active Auroral Program- HAARP. Like that the weather can by modified.
HAARP is the world's most capable high-power, high-frequency transmitter for "study" of the ionosphere, based in Alaska. The ionosphere is a very active part of the atmosphere which grows and shrinks depending on the energy it absorbs from the Sun. The name ionosphere comes from the fact that gases in these layers are excited by solar radiation to form ions, which have an electrical charge.
There is more information hidden from the public  than we thought. Weather manipulation is just one area, and facts are just slowly leaking out. "Yesterday"  this was all conspiracy theory and today it has become truth. Same as the Agenda 2030, mandatory vaccinations, restrictions and so on. It's time to wake up in to  new reality.
---
DB, CB