February 24th, 2022, saw the biggest military operation in Europe since WWII. After years of diplomatic failures, tension and escalating military attacks of Ukrainian forces against the Russian population in Donetsk and Luhansk regions, Russian military troops crossed the borders and the operation began. After the Russian Duma accepted requests from the official leaders of the Donetsk and Luhansk Republics for the military aid, Russian president Vladimir Putin sent soldiers to the region.
https://freeshuswap.com/ukraine/
Like every big project, a military event must be well prepared and the groundwork laid well in advance. Years of planning, logistical preparations, tactics, political maneuvers, false diplomatic promises, discrimination, corruption, and thousands of deaths set the stage for this operation.
https://freeshuswap.com/one-year-of-open-military-conflict-in-ukraine/
After more than year of open military conflict between Russia and the Ukrainian regime, it is more than obvious that Russia is at war with the countries of NATO and Ukraine is just the battlefield. Since 2015 NATO supported the Ukrainian army and police forces with military equipment, training, and financing. Canada is participating in the support of Ukraine through Operation UNIFIER with billions of dollars of taxpayer's money. Operation UNIFIER has been extended until 2025. Unofficially, thousands of soldiers from NATO countries are present in Ukraine under the Ukrainian flag. While the ground conflict remains in a few cities near the front line; Bakhmut, Kharkiv, Velyka Novosilka, there are a few very important things to mention.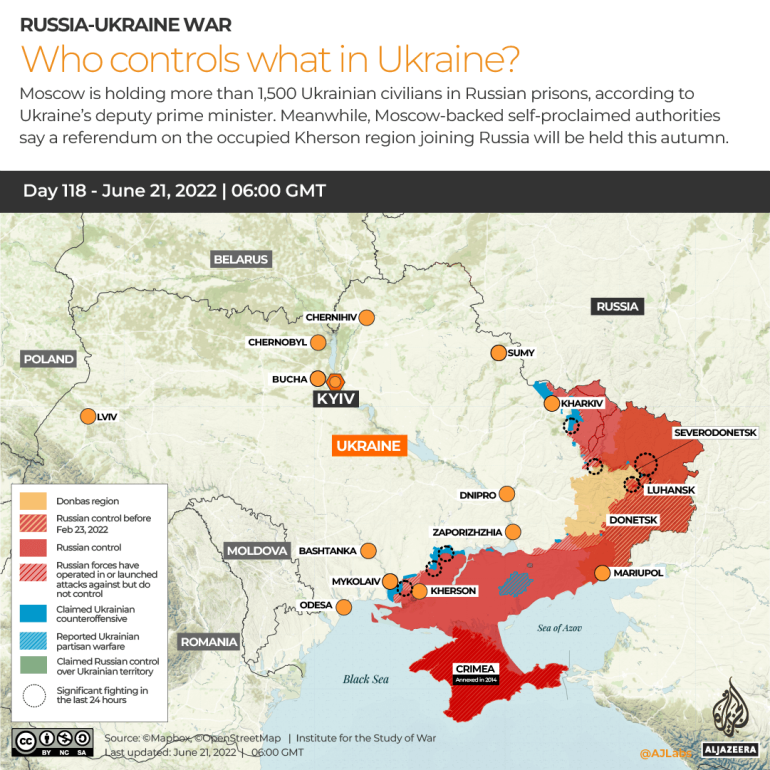 In March 2023, Britain sent armour piercing rounds which contains depleted uranium to Ukraine for use with the tank squadron donated by the British army. At the heart of the uranium shell is a thin solid uranium dart about 3cm thick and 60cm in length. The dart is designed to deliver highly concentrated kinetic energy to a single point on the target's armour. Here it converts its kinetic energy into heat, to melt its way through up to 80cm of modern armour. The British Defense minister Baroness Goldie said:" Such rounds are highly effective in defeating modern tanks and armoured vehicles."
On May 13, Russian Air forces destroyed a big ammunition depot close to the city of Khmelnytskyi, with a population almost 300,000 people. According to released information, the destroyed ammunition was valued at about $500 million and included rockets with the depleted uranium which were donated from Britain. After the explosion, multiple sources confirmed that higher radiation levels were measured in the atmosphere over Ukraine, Poland, Slovakia, and other countries. Officials of these countries denied this finding and mainstream media has completely ignored this fact.
https://twitter.com/i/status/1657485723291844608
On June 6, an unidentified explosion ruptured the 30- meter tall wall of the Kakhovka Dam collapsing at least 14 of the dam's 28 spans. The hydroelectric dam contains some 18 cubic kilometers of water, which is roughly the same volume as Utah's Great Salt Lake in the US. The water level in the area has risen by more than 10 metres, affecting over 22,000 people and flooding thousands of hectares of agricultural land and forests.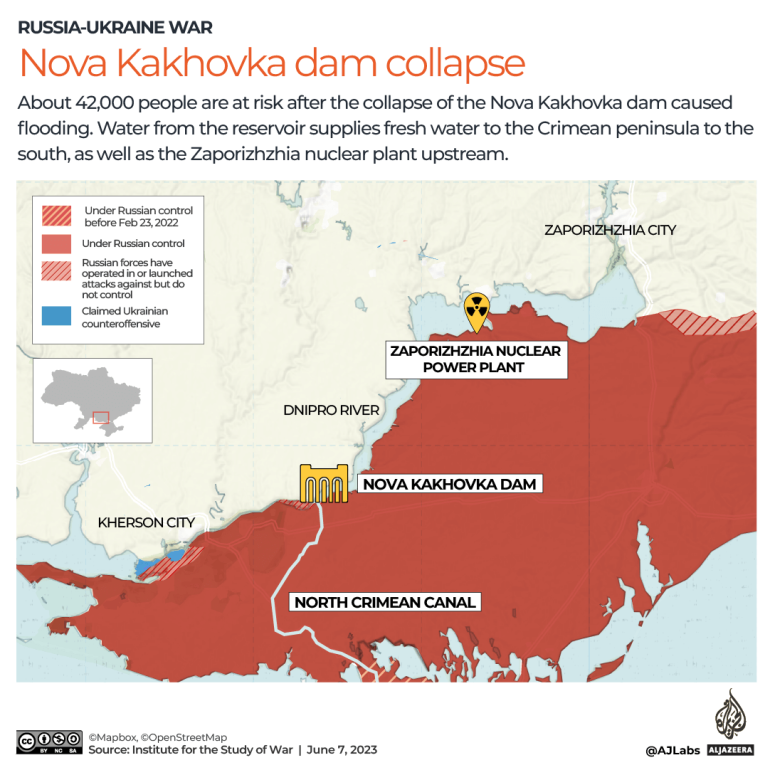 Kremlin Press Secretary Dmitry Peskov claimed, that the incident "was caused" by deliberate Ukrainian sabotage", and was aimed at cutting the water supply to the Crimean peninsula. After an official referendum and treaty in March 2014, Crimea became part of Russia. Ukrainian President Zelensky says that dam was damaged in a Russian "terrorist attack". He did not, however, explain what Russia's motivation could have been to destroy the Kakhovka Dam which is the main source of drinking water to the region as well as the main irrigation source for agricultural crops in the Russian controlled territory. Numerous Western officials appeared to take Kiev's side, of course, without any logical explanation.
https://www.theguardian.com/world/2023/jun/08/maps-kakhovka-dam-collapse-threatens-ukraine-bread-basket
On June 12 NATO allied forces began the largest military air exercise in history, operation Air Defender. Twenty- five countries with 250 aircraft and 10,000 personnel are participating in this event. The crews are training air operations in European airspace under the command of the German Air Force. Training missions will primarily take place over the North Sea, the Baltic Sea and Southern Germany. The drills are aimed at boosting interoperability and preparedness to protect against aircraft, drones and missiles attacks on cities and critical infrastructure. Other training events will include supporting ground troops and evacuation missions and will run until June 23rd.
https://www.nato.int/cps/en/natohq/news_215611.htm
Correspondingly in Canada, from May 31 to June 28 Vancouver Island is hosting a multi- national military exercise. The Canadian Armed Forces are conducting joint training exercises with US, Japan and NATO allies. Ships, aircraft, weapons and troops are currently on southern Vancouver Island.
https://www.castanet.net/news/BC/429624/Canada-to-host-multi-national-military-exercise-off-Vancouver-Island-in-June
June 19, for the first time in the history US bombers landed in Sweden. Two American B-1B Lancers arrived at Lulea-Kallax airport in Sweden on Monday, the Swedish military said. The B-1B Lancer, nicknamed "the bone," is a long-range, multi-mission, supersonic conventional bomber. B-1B Lancer has been adapted to carry conventional munitions and has been used extensively in close air support and tactical bombing missions. The multi-mission B-1 is the backbone of America's long-range bomber force, carrying the largest conventional payload of both guided and unguided weapons in the Air Force inventory.
https://english.almayadeen.net/news/politics/us-bombers-land-in-sweden-for-first-time-in-modern-history
What is the World getting prepared for? Are we so shallow that we cannot learn from the past? Has there not been enough disasters, catastrophes and wars in our history? Is it all about greed and power, or there is another agenda here? Billions of dollars are spent and millions of people are involved in the military industrial complex worldwide. As well, tons of natural resources are used to build and run military equipment for the war industry. Simultaneously, millions of people are starving and dying for lack of food and clean water along with the incalculable damage of the planet. The same people who claim, "we must care about others and the planet", are the same people who have initiated wars where millions are killed and the planet destroyed. These are the same people who want to lock us in 15 minute cities. If all of the human and material resources used for the war machine and the benefit of few could be used for benefit of all humanity the world would be a different place. The direction of the world is navigated by greed and power in the hands of very few, while the silent majority dream on, distracted from reality.
---
DB, CB