Last year, on January 22, the largest truck convoy in history started. Canadians from all parts of the country formed this convoy as a reaction to the Liberal government policy about Covid 19 mandates and restrictions. A very unprofessional, illogical, and unpopular vaccine mandate against Covid 19 for cross-border truckers was brought in by Trudeaus' cabinet at the end of the year 2021.  The mandate was brought with an exemption, that expired on January 15 in Canada, and on January 22 in the US, which affected over 16,000 Canadian truckers and other tens of thousand in the US.
Hundreds of Canadians drove their heavy trucks, semi-trucks, tractors, and other vehicles from several points of every province to join the convoy with the destination of Ottawa. The Freedom convoy 2022 was supported by thousands of people cheering alongside the highways, and millions from their homes, which shared positive energy and hope across the nation. Numerous rallies and protests occurred Canada-wide to affirm the convoy.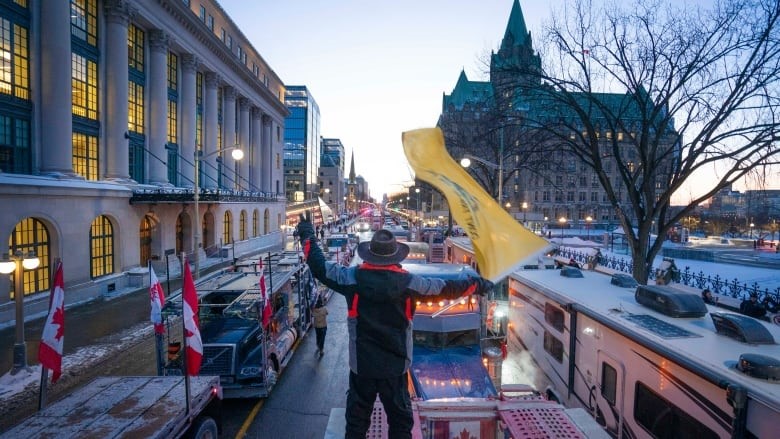 Photo source: cbc.com
Justin Trudeau did not respond at all, he left with his family the prime minister's residence, due to "security reasons". Not one member of the Liberals' cabinet reacted to the request; they only used very strong language in the mainstream media addressed to all Canadians who joined the protests. February 4, on the request of the Liberal government, the US private online fundraising company shut down the main funding account of the convoy
After a week of protests on freezing cold days on February 7, truckers and their sympathizers started a new protest on Ambassador Bridge in Windsor, Ontario, that limited the traffic between Windsor and Detroit.
February 11 Ontario premier Doug Ford declared a state of emergency and on February 14, 2022, Trudeaus' cabinet invoked the Emergency act, an act that in 1988 replaced the War Measures Act. On  February 17 on the order of the Liberal government Canadian banks started to freeze bank accounts related to donations to the convoy and police forces amassed at a staging area. A 12-foot high fence was built around the parliament buildings and checkpoints were erected.
When "Freedom convoy 2022" arrived in Ottawa center, for 3 weeks millions of people gathered there without any safety risk, hazard, or inconvenience. No incident involving the police occurred, and nobody was under threat until Friday, February 18th, when under the order of interim Ottawa police Chief Steve Bell, Police officers took enforcement action against peaceful protestors, including tear gas, rubber bullets, and horses. More than 170 Canadians were arrested by police officers. Towing trucks with mostly the drivers covering their faces towed numerous tractors and vehicles away. Within a few days, Freedom convoy 2022 was over, but hundreds of protests Canada-wide continued.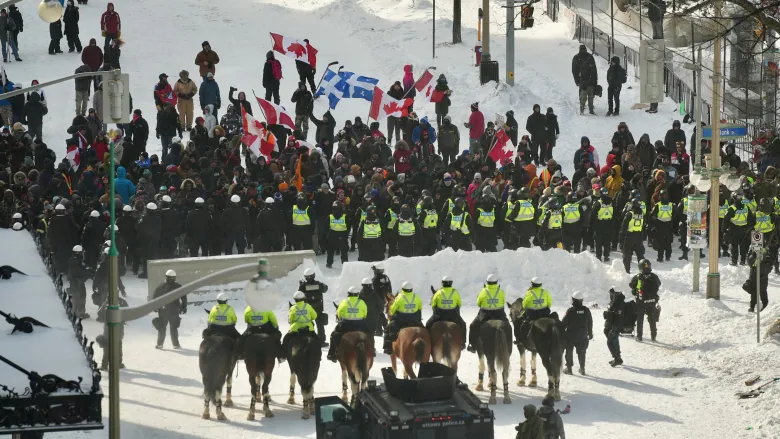 Photo source: cbc.com
Freedom convoy 2022 showed that people should never fully trust any form of government or any government agency, especially Justin Trudeau's cabinet, which has proven so many times, that they have no moral right to govern the second-largest country in the World. The convoy also illustrated that RCMP and police forces are protecting Canadian establishments and not people within the country. Police officers interrupted the convoy participants on the way to Ottava, stole the gas cans from convoy participants, undercover agents gathered information from the people within the protests, and in the end, they used brutal force against Canadians, and 170 were arrested; all only by political order. The mainstream media proved, that they are using partial truth or misleading the public, and after their $600 million injection from the federal government they are just pushing poor propaganda. Unfortunately, most of the above-mentioned people are still in office today, without any repercussions.
But the protest also showed that many Canadians have big hearts, are super friendly, and are willing to "fight" for freedom and a better future for their kids. New loves, friendships and a lot of nice, warm stories were created, fueled by millions of hugs, smiles, and tears in spite of the government's persecution. Thousands of people were connected and started a net of activists Canada-wide. The real opposition has been created.
---
DB