The communities of Lee Creek, Scotch Creek, Celista, Magna Bay and Anglemont have been devastated by the Adams Lake complex fire. Many residents that still have a home to protect have returned to find they have no potable running water, no power and no fuel of any kind. They returned to their property by boat as all of the roads have been blocked and are manned by local police or officers imported from Vancouver.
These same people have now been ordered to stay on their properties. RCMP and conservation officers are parked on drive ways and at gates preventing residents from leaving their properties. They are now unable to help each other and have virtually no access to food, water or fuel.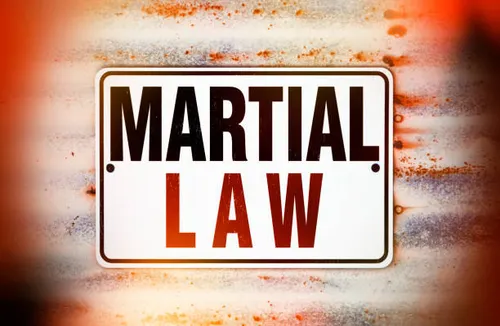 As one resident said: " Police here are threatening to arrest people if we are caught off their property." That is basically martial law in the place.
https://globalnews.ca/video/9919031/b-c-wildfires-shuswap-residents-feel-like-criminals-over-tensions-with-authorities/
Admittance to the area is strictly controlled and only those carrying an official permit at a cost of $60 are permitted to enter the communities. Property owners must have a compelling reason to get permission to access their own property. One resident needed to get her medications and had to pay $60 for the privilege of doing so. What is the rationale of charging an owner for access to their own property? The ticket was available only on Monday just to get in and take the stuff out. Since Tuesday, ticket is not available anymore, what CSRD noted.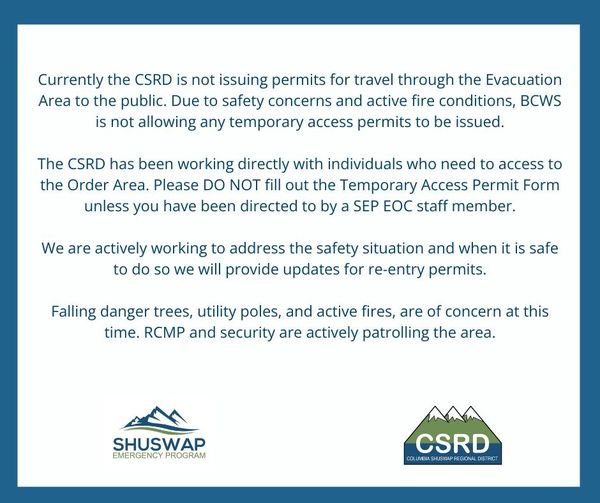 Concerned resident contacted CSRD to get more info and asked how are they coordinating feeding those who are sheltering in place? They are very strongly adamant about anyone staying there needs to stay in place or leave. CSRD representant said "we don't have a plan to feed everyone….It is because it still deemed unsafe by the professionals.. power poles and trees down". She respond to her "but the locals know their own streets and can see where the power poles and trees are down and know where to avoid." But it's not good enough." CSRD representant finished.
Residents are busy extinguishing spot fires and trying to keep their properties damp, a task that is becoming increasingly difficult as water supplies dwindle and fuel for generators for water pumps runs low. Large quantities of gasoline and diesel fuels have been donated by local businesses and individuals. Much of it has made it over to the north shore by boat only to hit bottlenecks at distribution points as no one is able to leave their property to obtain it.
As food rots in thawing freezers and drinking water becomes scarce one has to question the rationale of restricting the movements of residents to this degree. Is looting the main concern or is there another more nefarious agenda in play?
---
CB, DB