On Wednesday, February 22, Judge Shelley Fitzpatrick from the B.C. Supreme Court in Kamloops sentenced protestors of the Trans Mountain expansion project to 28 days of jail time. Four women, including Secwépemc  Hereditary Matriarch, Miranda Dick, received sentences for criminal contempt convictions for breaching a court-ordered injunction at Trans Mountain construction sites.
The women were arrested in October of 2020 at a gate to a Trans Mountain construction site near Kamloops Airport in Brocklehurst.  They were conducting a hair-cutting ceremony for the protection of women, water, and future generations in accordance with Secwépemc law. During the ceremony, they blocked the gate to the worksite preventing a shift change and refused to step away at the request of the local RCMP. They were a part of the Secwépemc Unity Camp to Stop the Trans Mountain Pipeline.
Judge Shelley Fitzpatrick said the protestors were peaceful and acknowledged that they participated in the protest out of their concern for the environment, but they chose to disregard the law and impose their own sense of justice. "Protests are part of a healthy democracy; criminal conduct is not," she said.
Tens of people gathered outside of the courthouse to support the defendants. They were very disappointed after the hearing, as one protester lamented, "We are land defenders, and we are concerned about the damage to the land and water, in particular the disruption of the salmon population,"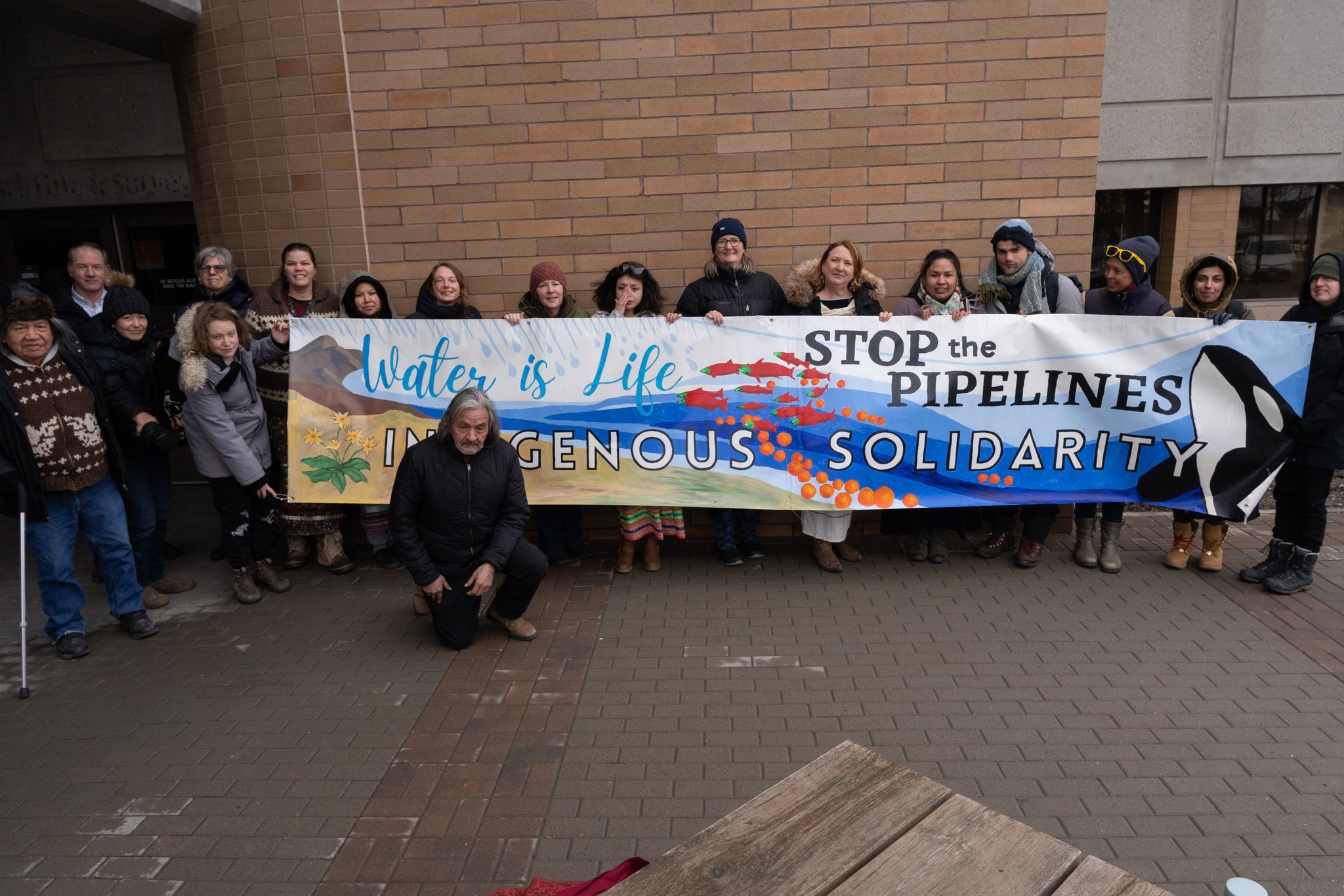 Photo source: facebook.com
The expansion of the pipeline will cross 518 km of Secwépemc traditional territory. The protesters believe it was approved without sufficient consultation with the local band.
Supporters created an online fundraising campaign to cover court fees and additional expenses:
https://www.gofundme.com/f/secwepemc-say-no-to-tmx-trial-support?qid=af8734f33467f137926c56de6992d203
It's important to mention, that in 1763, the British Crown declared that the only way to acquire land from First Nations is through treaties. The evidence supporting this is very poor in British Columbia. In 1997, the decision of the Supreme Court of Canada in the Delgamuukw v. British Columbia case declared, that Aboriginal title in British Columbia still exists and when dealing with Crown land, the government must consult and may compensate First Nations whose rights are affected.
https://en.wikipedia.org/wiki/Status_of_First_Nations_treaties_in_British_Columbia
The Trans Mountain Corporation, based in Calgary, is a Crown entity with commercial and public policy objectives. It is a subsidiary of the crown owned Canada Development Investment Corporation, (CDEV), which reports to the Minister of Finance. This body oversees critical financial transactions that enable Canada to achieve its goals and maximize the value of government-corporate assets. {source: https://cdev.gc.ca/}
---
DB